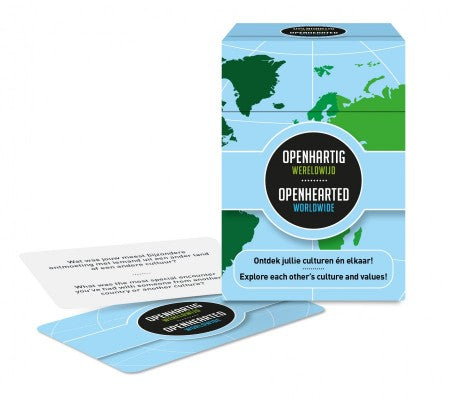 Openhearted - Worldwide
Pickup available at Kinkerstraat 117
Usually ready in 4 hours
Kinkerstraat 117
Pickup available, usually ready in 4 hours
Kinkerstraat 117
1053 DL Amsterdam
Netherlands
31206854600
We share the earth with many different people. But how well do we really know each other? Openhearted Worldwide, the latest game from publisher Open Up!, expands your view of cultures and thus also your view of each other.
This edition with more than 100 questions in 2 languages ​​(Dutch and English), gives you and your fellow players new insights and perspectives, understanding, boundless candid conversations and above all a lot of fun! It offers the opportunity to get to know and understand each other's cultural background and each other (even) better. Take turns drawing a card with a question or an assignment such as:
How do you experience the country where you are currently at and where do you really feel at home?
What do you think of the humour in the country where you are at now?
Is there freedom of expression in your country?
How do you experience this?
Where are your "roots"? And "what" of that do you always carry with you?
What do you think is typical music from your culture? Let your fellow players listen to some of this!
Play Openhearted Worldwide and be surprised and inspired by the different cultural backgrounds. Knowledge about each other's cultures also ensures that you understand each other better.

This game is ideal as an introductory game for people of other nationalities or cultures, to take with you on a trip or to get to know your foreign colleagues or fellow students (even) better. In addition, it is also surprisingly fun to play this game with people from your own culture. After all, everyone experiences a culture in their own way, depending on, for example, background or personal experiences.